"WE ARE IN SYNOD! The whole Church is in Synod, not just Rome!"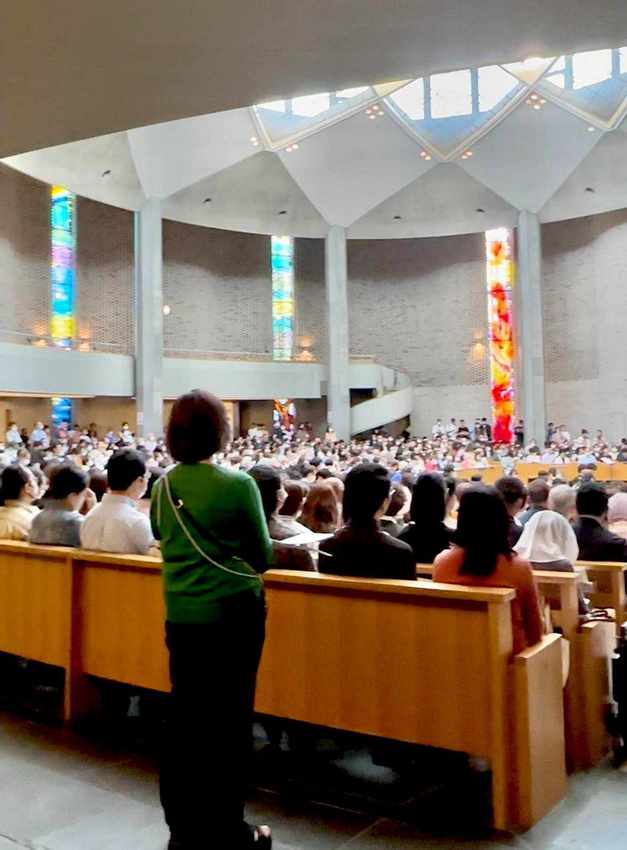 These words of a Portuguese Jesuit priest, Fr. Jaime Coelho of the Jesuit Retreat House in Kamishakuji reverberate in our hearts.
Last October 8, St. Ignatius Church, Tokyo, where the Hijas de Jesus do pastoral work, celebrated the launching of the 25th Anniversary of the Dedication of the present church. "Let's Walk Together - Towards the 25th Anniversary and Beyond," is the theme that underlies a prayer and a desire, that we become more and more a synodal Church.
A symposium, entitled, "What is Synodality, again?" was one of the main activities of the celebration. How can we become a synodal church? What is missing from St. Ignatius Church as a synodal church?
There were five speakers, four Jesuits and me. They are all Associate and Support Jesuit priests in St. Ignatius. The first one, Fr. Bony James (from India) gave an" Explanation of the Basic Parts of the Synod based on Youth and International Perspectives." The second was Fr. Koutarou Mori (a Japanese), "From the Experience of Participating in the World Youth Day 2023. I, the third speaker representing English-speaking countries, talked about "Introduction of Initiatives for Synod in the English Community," the fourth Fr. Antonius Firmansyah (from Indonesia), and the fifth speaker (Fr. Nguyen Thanh Nha (from Vietnam), from the Perspective of their own communities. It was followed by an Open Forum
I began by saying that I myself am an example of the many challenges posed by "Synodality". As I migrant, I wanted to talk, with the largely Japanese audience, spontaneously and deeply from my heart, but I felt constrained by the language. I could not do it in Japanese. This feeling is not mine alone but is likewise, that of the many foreigners who have been coming to St. Ignatius church. They wanted so much, to share with the Japanese and other language groups as well, their thoughts, feelings, suggestions, and dreams about synodality but could not. And so, today, I told my Japanese listeners (around a hundred of them), "I take courage" to represent us, migrants and share the process we went through as a group over the past six months and be "heard". I gave them a prepared handout with a Japanese translation. I spoke in English, an experience itself, for many of them.
Our group, consisting of leaders and volunteers in the John de Britto English Center believes that Synodality is a lived experience in St. Ignatius Church. We are a multi-cultural, multi-racial, multi-lingual parish. "Journeying together "is happening, though not in its fullest sense or ideal as defined by the document. Parishioners, not just leaders, need to be given more information, and formation about SYNODALITY. They need accompaniment through formation sessions/activities/assemblies so they can recognize and be sensitive to how it is manifested/concretized in parish life structures and activities. The challenges are real – lack of Japanese communication skills and vice-versa, the human tendency to be judgmental, impatient of the pace of others, lack of understanding of differences in culture and ways of doing things, the need to reach out "outside our fences", our comfort zones, etc. But the joys are real too – a growing realization and concern that we are brothers and sisters in Christ, that we are in the same boat and so we have to help one another! There is richness in plurality and diversity. We can do more in the mission by developing stronger bonds. Above all, it is vital that WE BE LED BY THE SPIRIT, in prayer and discernment, in an attitude of listening, openness, and flexibility.
- Sr. Flor M. Florece, FI